Register Now for Spring Music & Dance Classes
Gift Certificates are now available
Call us now at (619) 691-0499


Trying to decide between a few different
Music and Dance Schools?
Since 1980 more than 6,000 students have taken music lessons (piano, guitar, voice, drum, violin, brass, and woodwinds) at our facility, more than at any other studio in Chula Vista. We started as a very small school but have grown to become the largest music school in Chula Vista by offering the widest variety of music lessons and voice lessons.
Voice lessons are very popular at our school. Whether you are involved in a singing/vocal group at school, part of a theater group, or just love to sing as a hobby - voice lessons at our school will give you the confidence to shine.
We do not believe we are the best because we're the biggest. Instead, we believe we're the biggest because families think we are the best.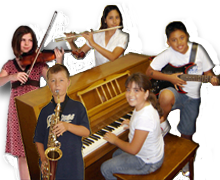 As a parent we realize you have a choice between several different music schools. All studios are not the same. We constantly renovate and improve our facilities and provide ongoing training to our teaching staff to ensure we are always providing students and parents with the best experience possible.
Today, as in 1980, there are several different studios to choose from. We invite you to compare all of the features and options to see why our studio has been chosen more than any other music and dance school in Chula Vista. Click here to view a studio comparison checklist.