Register Now for Spring Music & Dance Classes
Gift Certificates are now available
Call us now at (619) 691-0499

Dance Class Descriptions
Tot Dance Age 2
This is an introduction to dance specially catered to the youngest new dancers. Children learn the basics of movement and get familiarized with a cooperative team dance setting in a way which is relaxed, easy and fun. The instructor guides the children through simple motion exercises to strenghen their coordination, balance and listening skills. This dance class helps develop your child's motor skills and enhances creativity through imaginative play - both very important at this age! Toddlers will love movin' and groovin' in time with the music. Tot Dance makes an excellent first group activity for young children looking to ease into the fun world of dance.
Pre-Dance Ages 3-4
An introduction to the fundamentals of dance as a form of artistic expression. Fun dance exercises get children moving and developing their coordination as dancers. The creative component is quite large. Dancers are encouraged to view dance as a means of physical expression. For example, children take part in dancing out a narrative act which helps children to understand that dancing is about creativity, energy, and self-expression. The vocabulary covered in our Pre-Dance classes are all steps which a 3 year old can master, so children build self-confidence in themselves as dancers. The vocabulary covered will prepare students for pursuing more specialized styles of dance in the years to come.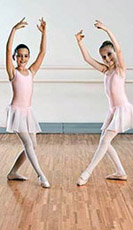 Ballet Beginning: Ages 5-7
Level 1: Ages 8-11
Ballet is a timeless dance form loved around the world. In ballet, children learn poise, grace, coordination and individual strength. Ballet is a highly structured style of dance class which can help children appreciate the power of discipline and develop a finer sensitivity to music. Ballet classes often involve rehearsing elegant techniques, both group and individual. We try to cultivate a proper classical style in a low-pressure environment, so students have fun while establishing good long-term dance habits in flexibility, balance, and alignment.
Hip Hop Beginning: Ages 5-7
Level 1: Ages 8-11
Hip Hop is one of the most popular varieties of dance classes right now. The routines are the kind you would see by popular recording artists at concerts, in movies, and on tv. This class will definitely enhance a young dancer's energy and enthusiasm for dance! We focus on building the core fundamentals including counting music, memorization of sequences and choreography and exploring rhythm through the use of the body. All this is done in a fast, fun and freeform way that children will love. Young dancers feel accomplished when they become able to perform routines similar to those displayed by their favorite popular artists; Hip Hop classes are a fun and exciting way to boost self-confidence.
Jazz / Tap Beginning: Ages 5-7
Level 1: Ages 8-11
This class combines elements of jazz and tap into a Broadway style. Two styles of dance weave together in our beginner program which strengthens a young student's rythm and agility. A great dance class to build solid foundations in all styles of dance. As students progress, they learn increasingly complex routines, many of which are flashy and theatrical. Jazz is a ballet-based style of dance that emphasizes turns and leaps. Like Hip Hop, Jazz / Tap classes are exciting and energetic classes that all ages enjoy. Your child will feel like a star!